BDO Monthly - April 2022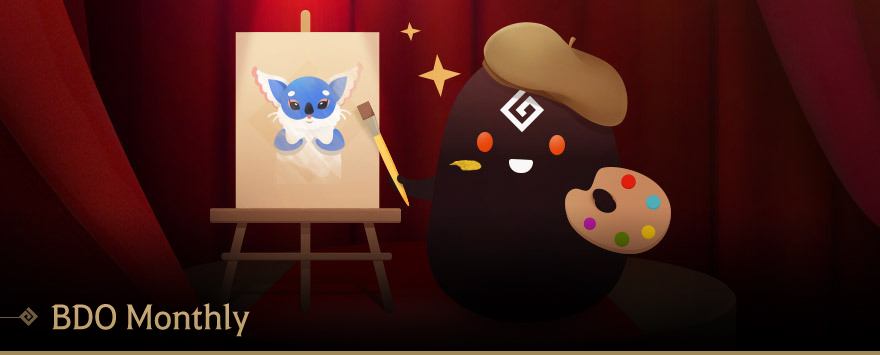 Greetings Adventurers,
BDO Monthly April Issue has just arrived! Grab a copy while it lasts!
This month our adventurers have shared with the community their coolest characters drawings and screenshots, a speed paint video and guides that will help you complete the most difficult challenges in Sycrakea! Are you ready? Let's start reading the magazine!
Magazine Cover
Drawings
Adventurer Freya commissioned artist Mato A.I to draw her awesome Witch in combat. We can see Freya's Witch casting her electrifying spells while blending with the sands of the desert. We loved the color scheme and concept used for the drawing!


▶ Witch Commission by Mato A.I - Freya
▶ Mato A.I ArtStation
Adventurer Luwucifer created this drawing for a friend that wanted to see their Dark Knight covered in corruption from the Blackstar weapon. We know Blackstar is a powerful weapon, but do not let the weapon take control of you! Don't you remember what happened with Calpheon citizens that fell under the influence of the Blackstar? We do not want that to be repeated!
▶ Corruption Tastes Beautiful - Luwucifer
Adventurer Cirtap13 drew a Valkyrie wearing the Enslar outfit while resting next to a lake. Our characters are used to fighting most of the time, but it's important to have moments of tranquility to admire the beauty of the landscape. Cirtap13 perfectly portrayed the beauty of Black Desert in a different way and in a different art style. We loved the details of the outfit and how mysterious this Valkyrie looks!


▶ Enslar Valkyrie, Moment of Reflection - Cirtap13
Adventurer CookyLay is a veteran who has been playing Black Desert for the past six years. March 3rd marked the anniversary of Black Desert and CookyLay wanted to share their favorite screenshots from these past years. We look forward to seeing more screenshots for many years to come!
Adventurer Reverielle travelled to Velia on a spring afternoon to take some amazing screenshots when the sun was setting. The lighting for these screenshots was perfect and also the outfit that was chosen matches the cherry blossom trees in the background.
Adventurer Mirmulnir did a photoshoot of their Valkyrie in Star's End after fighting with hordes of Apostoles of Corruption. We really liked the colors used for the Enslar outfit as it matches the vibe and mood of Star's End. We hope Mirmulnir was lucky and got lots of Distortion's Earrings!
Video
Adventurer Mercuel appears one more time in our magazine, but this time they are showing us their art skills in a speed painting video of a Warrior in the middle of a siege. Being able to see the whole process of the drawing showed us how dedicated Mercuel is to details when creating their Black Desert art. Your art is truly a pleasure to look at, and we look forward to seeing many more from you!
Guides
Adventurer OverFarming shared with the community a handy guide in Spanish explaining how to complete the puzzles of Sycrakea (Even those that are secret). If some puzzles in this dungeon are extremely difficult for you to complete, and you need some help to continue, then check out this guide!
Adventurer Elid shared with the community a guide in Spanish explaining the function of Artifacts and Light Stones. Is it your first time getting familiar with these items? Do not worry! Elid perfectly summarized all essential points, so now it's your turn to take your gear to the next level!
Rewards
May 2022 Issue's Adventurer of the Month Perks
★ 2,000 Pearls ★
BDO Monthly 30-day Title [Adventurer of the Month]
▲ Preview of the [Adventurer of the Month] Title
May 2022's Adventurer of the Month!
Who is Eligible?
- Adventurers who post on the Community > Fan Art or Tips & Guides from April 1, 2022 and before the end of April.
- Any Adventurer who posts fan art, screenshots and guides, is eligible to be an "Adventurer of the Month"!
- "Adventurers of the Month" will be selected every month, and the total number of selected Adventurers may differ from month to month.
May 2022 Issue's Adventurer of the Month Perks
- 2,000 pearls
- BDO Monthly 30-day Title [Adventurer of the Month]
Additional Notices
- The [Adventurer of the Month] Title will be sent by in-game mail during a following maintenance. You must open the box sent to you by in-game mail to obtain the title.
- The in-game mail will expire after 14 days and the box containing the title will expire after 7 days. Please make sure to open it before it expires.
- Your winnings cannot be transferred or ceded to another person. Prizes cannot be exchanged for other products of similar value.
- Screenshots, images, videos and guides that are featured in BDO Monthly may be shared on the official Black Desert website or social media channels.
- If your account is restricted for violating the Terms of Service agreement before you receive the event prizes, you may be disqualified as a winner and have any prizes withdrawn even after being selected as a winner.