Promote Your Guild!
Event Period
- April 20, 2022 (Wed) after maintenance - May 1, 2022 (Sun) 23:59 (UTC)
Event Details
Step 1. Set Up a Guild Intro!
① If you're looking to welcome Adventurers to your guild, introduce your guild to prospective members with the in-game Guild (G) → Guild Intro!
Who Can Edit Guild (G) - Guild Introduction?

Guild Master, Advisor, or Officer

Tip

for Intros

!

Make sure to include

the

advantages or special benefits that will attract new/returning Adventurers!
Step 2. Post Your Recruitment Notice!
② After you've finished your guild intro, post your guild recruitment notice!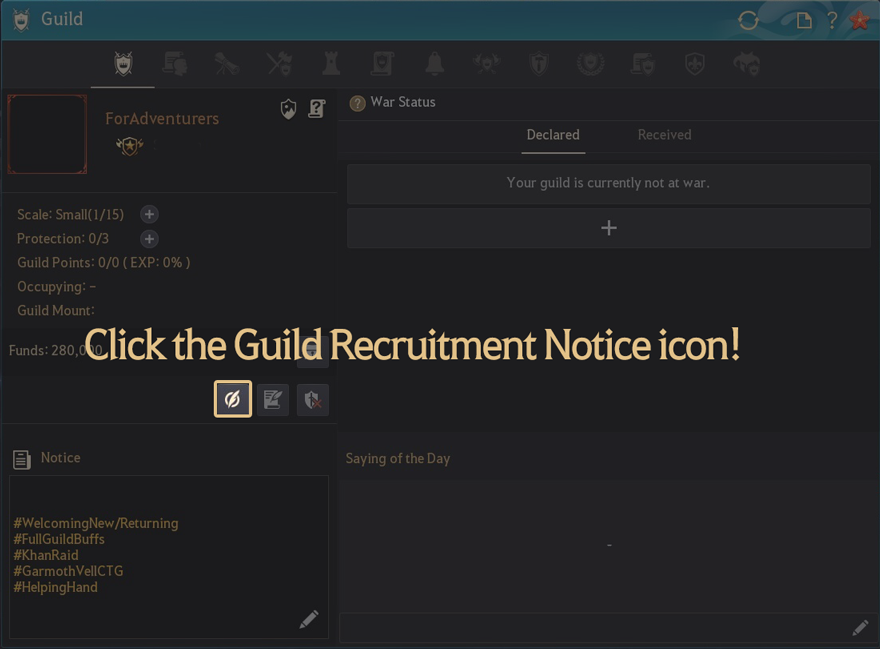 ▲ From the Guild (G) menu → Click the Guild Recruitment Notice icon!
▲ Select your guild "type" and post it! You can click "Notice List" to see the recruitment posts.
▲ Make sure to check if your recruitment post is properly listed on the guild list in the "Recruit Guild Member" menu!
Step 3. Promote on the [Guilds & Friends] Forum!
③ Once you've finished the steps above, follow the format below and upload a post advertising your guild on the Black Desert website's [Community] → [Guilds & Friends] forum.
Required Post Format
- Your post's title must start with [Server][OurGuild] (Required)
E.g.) [NA][OurGuild] Join Lando Tours!
- Include an image of your guild intro page! (Required)
- Feel free to include any other promotional images and/or videos!
Event Rewards
Guilds that introduce themselves in creative and unique ways can receive the following rewards!
Top 10 Guilds!

5,000,000,000 Guild Funds
Top 30 Guilds!

3,000,000,000 Guild Funds
Participation

[Guild] Forest Ronaros Guardian Summon Scroll x5
Guilds that promote benefits for new/returning Adventurers!
Selected guilds will be pinned at the top of the guild recruitment screen!
* The Top 10/30 rewards will be determined and given to the guild that you were a member of at the time you participated in the event.
* The event rewards can only be received once per Guild.
* Changing your guild type (Combat, etc.) after it has been pinned may result in it being unpinned.
* Pin Period: May 4, 2022 (Wed) after maintenance - June 1, 2022 (Wed) before maintenance