400% Hot Time
Event Period
- May 18, 2022 (Wed) after maintenance – May 31, 2022 (Tue) before maintenance
Event Details
- During the event, a special Combat/Skill EXP Hot Time buff will be active on all servers!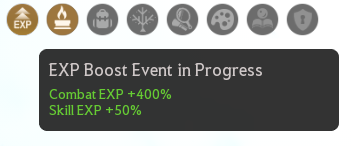 Active During the Entire Event Period
Combat EXP +400%
Skill EXP +50%
* This buff will not apply to EXP obtained as a quest completion reward.
* This event buff will not stack with any of the permanently available Hot Time buff for each server.
* The Combat EXP event buff will not be active on characters that are below Lv. 50. (The Skill EXP will be active regardless of a character's level.)